Based in Peterborough we are staffed by a small but friendly team of staff who all believe that reputation counts for everything. We'd like to think we would always go that little bit further to please as customer satisfaction is our number one priority. We would be delighted to play a part in making your special day simply perfect.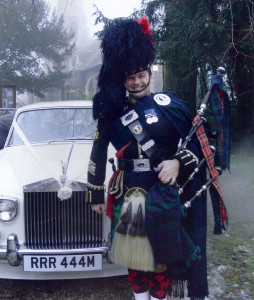 We hire most of our wedding cars to clients who are looking for something special as we combine both vintage and contemporary Marques. Our wedding car service operates throughout Cambridgeshire, Rutland, South Lincolnshire, West Norfolk and North Northamptonshire.
When using Prestige & Classic Wedding Cars you are guaranteed to turn heads and arrive in comfort in any of our beautifully presented vehicles. All our cars are in stunning condition and meticulously maintained.
Your car will of course, be immaculately presented, as will your driver who will be wearing full chauffeur uniform. On taking your booking we will seek an indication of what services you wish our driver to provide.
We are happy to decorate the vehicle, provide refreshment, or provide any other service which you require within reason. We will contact you the week before the wedding to finalise your itinerary. If you wish, we are happy to work directly with a wedding coordinator.
Our vehicles are available to view in our showroom in Peterborough where you will receive a warm welcome. Please telephone or get in touch to arrange a viewing. We will be happy to answer any questions you may have and allow you to peruse our vehicles at your leisure with no obligation to book.
Please contact us for any special occasion, you may be surprised at how little it can cost to make someone happy.